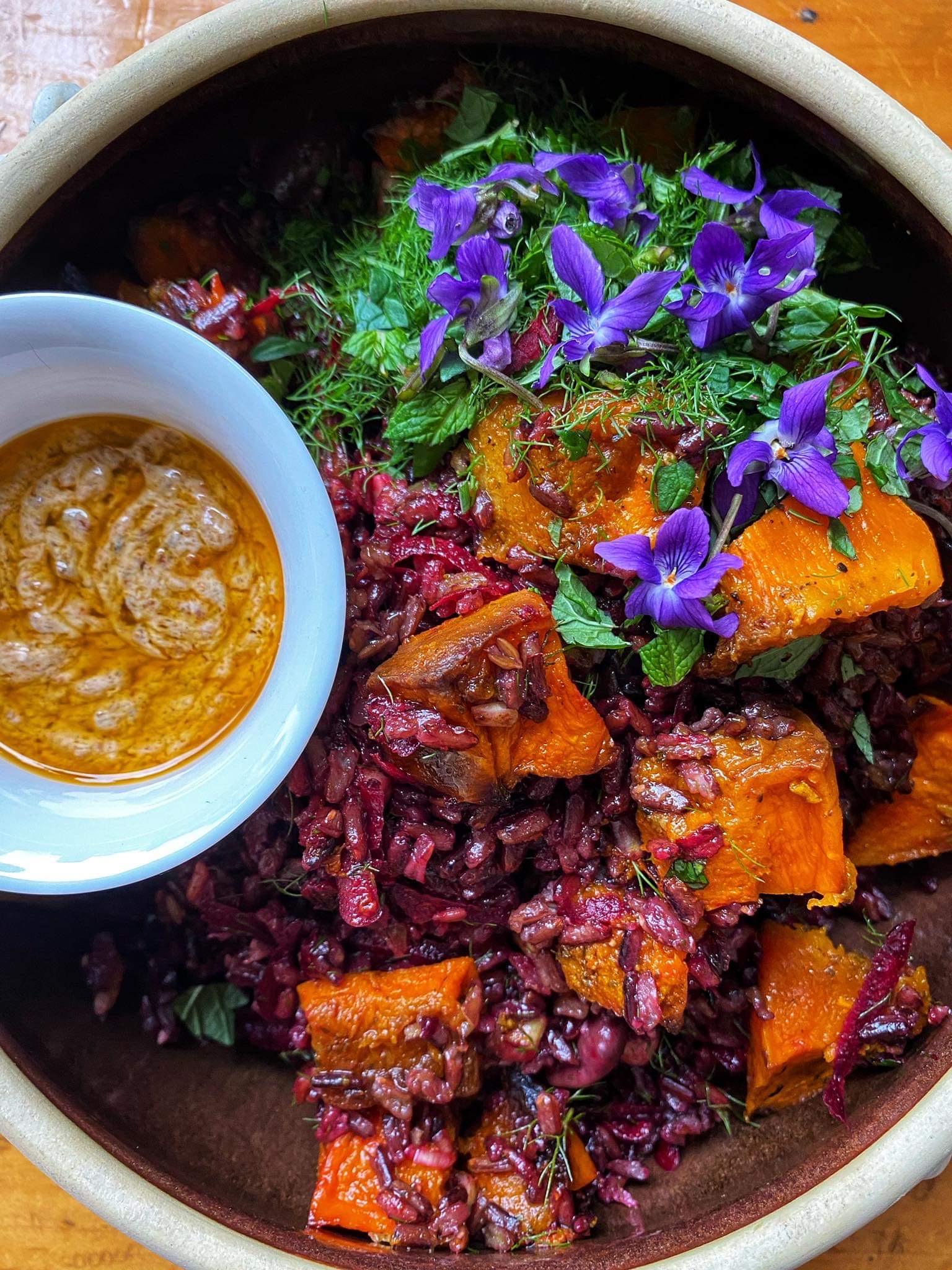 A Feast for your Microbiome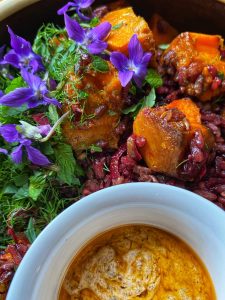 Black Rice with Turmeric Roasted Pumpkin and Harissa Yoghurt
A delicious recipe packed with Resistant Starch – a prebiotic superstar for the digestive system. 
Cold potatoes and other root vegetables such as kumara, pumpkin and yams, black rice, and even green bananas provide resistant starch, a prebiotic that we can liken to 'compost' for the inner garden that comprises our microbiome.
Resistant starch literally 'resists digestion' in the small intestine', transcending to the large intestine to nourish our good gut bacteria, who thrive on, and ferment the starch.
Benefits of this process include reduced inflammation, improved metabolism, and increased absorption of essential minerals. 
This recipe is easily adaptable for produce that complements each Season, and you can experiment with different Cuisines and herbs and spices, or any of your favourite foraged greens.
Cooking the rice in broth is a really simple and nutritious way to add extra nourishment to your meal. 
1 cup of black rice (replace with quinoa/couscous/Israeli couscous/buckwheat – follow their cooking instructions.
2 cups of veggie broth or bone broth 
1/4 crown pumpkin cut into equal sized cubes
Olive oil
Thumbsize piece of fresh turmeric (grated) or 1/2 tbsp. turmeric powder
Pinch of saffron (natural antihistamine)
1 tbsp. Ras el Hanout
1 beetroot grated
Handful of dried cranberries/chopped dried apricots/dates
Handful of chopped nuts – brazil/cashew/walnuts/almonds
Handful of olives 
Handful of sundried tomatoes
Tbsp. of capers (also a natural antihistamine)
Chopped fresh herbs such as fennel or mint
Chopped spring onions/red onion
Optional – pomegranates if lucky enough to be in Season! Feta. Eggs or have as a side to your choice of protein.
Dressing
2 tbsp. Harissa paste (I get mine at New World) add equal parts of hot water, then a drizzle of olive oil and combine with:
1/4 cup of yoghurt
Bring the black rice and saffron to a boil in the veggie broth, put the lid on the pot and simmer for 20 mins. Once cool place into the fridge over night or day. 
Grate the fresh turmeric over the pumpkin, then drizzle with olive oil, the ras el hanout, and season well.
Bake in the oven at 180 C for around 20 -30 mins, you want the pumpkin to be browned and deliciously caramelizing.
Cool the pumpkin over night or day also to develop the resistant starch.
For the salad, combine all of the ingredients, drizzle the dressing over top and Voilà.
For the ultimate dream-team serve with Sauerkraut or Kimchi – this is the perfect combination of prebiotics and probiotics.
And to add in some extra Magic go for a look around your garden, beautiful violets are in season at the moment, the perfect accompaniment to appease our love of purple xx